TrueCrypt was finally made available for Linux with the release of version 5.1a. Here's how to install it.
**Update**
I have been made aware by Onopoc in the comments section that this same tutorial will work with TrueCrypt 6.1a as well. Simply change the name of the file in the respective spots where the exact file name is used
Installing TrueCrypt
Open a terminal window and type: 'wget http://www.truecrypt.org/downloads/truecrypt-5.1a-ubuntu-x86.tar.gz'

Once that is done, type: 'tar zxvf truecrypt-5.1a-ubuntu-x86.tar.gz'

Now go to 'Places' –> 'Home Folder' and look for a file called
'truecrypt-5.1a-setup-ubuntu-x86' and double click on it

You should get a dialog box asking you what you want to do with it. Choose 'Run in Terminal'

You should now see another dialog box with the option to 'Install TrueCrypt' at the bottom. Choose this.

You will now have to accept the TrupeCrypt agreement, so choose the appropriate button

You should now see the package installer. Click the 'Install Package' button in the upper right

Wait for the package to install. It may hang for a bit, but just let it run. You will soon be presented with a new dialog box saying the installation was successful

Running TrueCrypt
There are a couple of fairly easly ways to run TrueCrypt now that we have it installed.
The first way is to press 'Alt + F2' and enter 'truecrypt' in the text area. Then press 'Run'.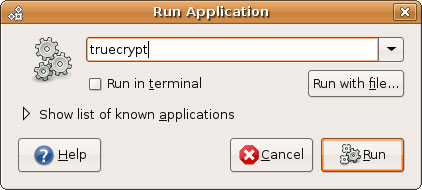 The better way to do it is to create a launcher for it to make it easier for us in the future. Here's how.
Right click on the desktop and choose 'Create Launcher'

In the box that comes up, type 'TrueCrypt' in the Name field and
'truecrypt' in the Command field.

You should now see an icon similar to this on your desktop

That's it. All you have to do to run TrueCrypt now is to double click your newly created launcher!