I'm just going to cut to the chase: The tabs in Photoshop SUCK. This is coming from the guy who wants tabs everywhere. In explorer/file browser, my browser, my text editor…can you imagine how easy the universe would be to navigate if all the planets were simply tabs? Want to go to Mars? Just CTRL + Tab over to it. Simple right?
With all of this love for tabs, I am completely dumbfounded by the use of tabs in Photoshop. I really tried to like it, but it's just not intuitive and it's mind blowing that this was made the default for such an amazing product. Here's how to turn them off, and actually start getting some work done again.
Go to 'Edit' –> 'Preferences' –> 'Interface'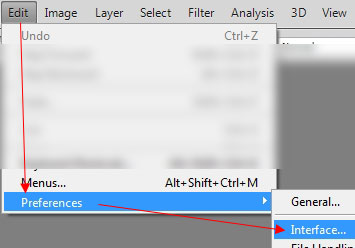 Now uncheck the 'Open Documents as Tabs' option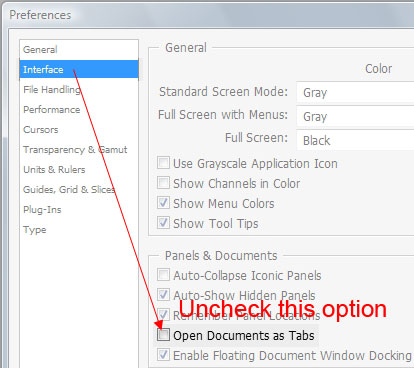 ***Update***
Scott left a great comment about how you need to open files in order for the tabs to not show up.
"…you can successfully drag multiple images to CS4 and have them all open in floating windows IF you drop them on the top tool bar."
***Update 2***
ridley left another great comment below on how to easily turn tabbed windows into floating windows: "you can actually just click on a tab and drag it down to the canvas and it becomes a floating window." Brilliant!